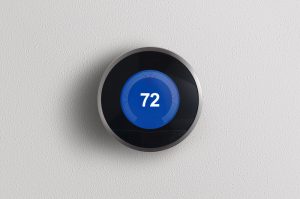 Is your thermostat outdated? If so, it may be time to consider an upgrade. Homeowners throughout the Triangle have found that smart and programmable thermostats have enabled them to get maximum satisfaction from their HVAC systems. Here are Boer Brothers' top 5 reasons why you should upgrade your thermostat.
Increased comfort in the Triangle
Programmable thermostats allow HVAC systems to function at their highest capacity and deliver maximum comfort for your household. The ability to program your heating system for certain temperatures at different times in the day means you know you'll be warm and cozy every time you come home from work this winter in Chapel Hill.
Convenience
Having a programmable thermostat provides the benefit of worry-free operation of your HVAC system. Touch screen displays are easy to read and use, allowing for quick and easy temperature and humidity adjustments. Many of today's smart thermostats are so intuitive that they don't even require programming. The Nest thermostat will learn your preferences and automatically keep indoor conditions to your liking.
Smartphone compatibility
With a wifi-enabled thermostat, you won't have to worry about forgetting to adjust the temperature before you leave for vacation. Just grab your smartphone and set your desired temperature level from anywhere you have internet access, whether it be home, work, or the highway.
Lower energy bills in Raleigh & Durham
Programmable thermostats operate more efficiently, which uses less energy, Zoning capabilities allow you to heat or cool only the areas of your home that need it. Less energy used means lower monthly utility bills, especially in the winter when energy costs can often go through the roof.
Go Green with Boer Brothers
Higher efficiency doesn't just save money, it helps the environment as well. Less energy wasted allows us to pursue superior heating and air conditioning solutions that are sustainable for our planet. When reducing our ecological footprint actually allows for greater comfort and enjoyment from our HVAC systems, it's a win-win for everyone.
If your thermostat is in need of an upgrade, Boer Brothers Heating & Cooling can help. Our certified technicians will determine the right thermostat for your home and lifestyle, delivering comfort and convenience year-round. Call us to schedule an appointment today!
(919) 813-2556