NEED REPAIR SERVICE NOW? CALL US:
We Provide Expert A/C Repair
We are of the opinion that an air conditioner is what makes the South livable. Whether you need an AC repair, some preventative maintenance or it is time to look at replacement options, the folks at Boer Brothers Heating and Cooling can help.
Having your air conditioner repaired in a timely fashion—and by a professional—is paramount to the keeping your system operating efficiently for its entire lifespan. Boer Brothers Heating & Cooling offers timely service to keep everything running smoothly. Our HVAC technicians are highly trained for all types of air conditioner repairs. From things like repairing leaks and ductwork to replacing circuit boards and recharging the freon in the system, Boer Brothers' skilled technicians do it all.
We are standing by and ready to help you beat the heat!  Give us a call today so that we can diagnose your air conditioning issue.  Our trucks are stocked and we're committed to getting your system back up and running quickly. Boer Brothers Heating and Cooling is proud to be an authorized Trane dealer for your Residential Air Conditioning needs!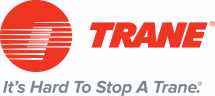 Why Is My Air Conditioning Not Working?
It's important to have an expert diagnose your AC problems in Chapel Hill and Durham, NC for the fastest and most accurate solution.  There are many issues that can arise especially as temperatures soar—some of the most common AC issues include:
A clogged condensate drain line is the most common reason for an air conditioner to leak water into your home. When buildup becomes too large, it forms a clog and water gets backed up and fills your drain pan. Other reasons could include low refrigerant or clogged air filters. Regularly change your air  filters, and if you have a frozen evaporator coil from low refrigerant, you should contact us immediately to diagnose the problem.
Warm air means that the indoor part of the system is working or it wouldn't be blowing air at all. It is likely that the outdoor part or the thermostat has an issue.  Check your thermostat first, and change your air filter if it is dirty.  If your outdoor unit has ice, turn off your A/C for 2-3 hours to let it thaw, then turn it back on.  If these troubleshooting steps don't work, please give us a call so that we can diagnose the problem immediately.
Call Us Today at 919.813.2556—We Will Get Your A/C Back Up And Running Again Quickly!
Why Choose Boer Brothers For Your A/C Repairs?
Maintenance Keeps Your System Running
HVAC maintenance, just like owning a car, is extremely important when it comes to limiting repairs and prolonging the life of the system. Your air conditioning system will work it's hardest throughout the summer and your heating system through the winter. That's why having maintenance performed twice a year during spring and fall is extremely important in terms of saving energy. Making sure everything is running properly before it is worked hard helps work out the kinks before they develop into bigger problems. Contact us to schedule your air conditioner maintenance today!
We Can Fix Your A/C Quickly & Affordably. Call Us Today!
OR CLICK TO SCHEDULE AN APPOINTMENT
At Boer Brothers, we are people you can count on.  Whether you need some options on a new heating and cooling system in Durham, have a service request so you and your family won't be uncomfortable all weekend, or are a restaurant owner with a walk-in cooler full of the catch the day, we are here help you with your problem.
Our trained and certified technicians can handle it all and are available for any HVAC need that arises!  Our knowledgeable comfort consultants will assess your system and make expert recommendations that fit your family or business's specific needs in Chapel Hill.  And make sure to enroll in our annual Maintenance Club to keep your HVAC system running efficiently and reduce the risk of your system encountering problems in the future.
Give us a call today for immediate assistance.  If it is less urgent, fill out request service form to the left. If you have question or want to start a conversation with David, Bryan or Jeff, or our office, email us at boerbrothers@nc.rr.com. And finally if you'd like to meet us, stop by our Carrboro Office and come on in!