NEED SERVICE NOW? CALL US TODAY AT:
Is It Time To Upgrade Your Business's Old System?
Whether you have a restaurant or an industrial warehouse facility, maintaining a comfortable temperature is important. When you need a replacement and do not want your business to be disrupted, call Boer Brothers to replace your commercial HVAC system with a higher efficiency system in Chapel Hill, Durham, Carrboro, Hillsborough or Pittsboro. Our skilled and trained technicians have the experience and knowledge to choose the best system for your business's heating and cooling needs, helping you save money on energy bills and get the most efficient and affordable system installed.  The expert service team at Boer Brothers Heating and Cooling will provide you with all of the detailed information and evaluations to maximize your heating and air conditioning experience while providing affordable service.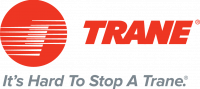 Boer Brothers Heating and Cooling is proud to be an authorized Trane dealer for your Commercial Heating and A/C needs! 
Take a look at our local client list and you will see that we service many of the finest restaurants and businesses as well as the fantastic neighborhoods. These are customers who care about quality and reliability and seem to have found it with us. They tell us so and come back to us again and again. Give them a call and ask!
How To Know When It's Time For A Replacement
When your HVAC system completely stops working, it will be obvious that a major repair or replacement is necessary. However, there are other warning signs to look for. When you find that you are calling every month or so for minor to substantial repairs, that may indicate that you need a heating or AC replacement in Chapel Hill. If this happens on a regular basis, you will continue to spend money on a system that will not become more efficient because of the age, and it makes sense to get a new, energy efficient HVAC system for your business. The sooner you make the replacement, the quicker you can start enjoying cost savings from lower energy bills and fewer repairs.
Call Us Today at (919) 813-2556 To Learn More About Our Products and Services!
Why Choose Boer Brothers For Your HVAC Installation?
Maintenance Keeps Your System Running
HVAC maintenance, just like owning a car, is extremely important when it comes to limiting repairs and prolonging the life of the system. Your commercial HVAC system will work it's hardest throughout the summer and your heating system through the winter. That's why having maintenance performed twice a year during spring and fall is extremely important in terms of saving energy. Making sure everything is running properly helps prevent bigger problems. Contact us to schedule your heating and cooling maintenance today!
Meet the Boer Brothers. Let Our Family Help Your Business!
OR CLICK TO SCHEDULE AN APPOINTMENT
We will recommend a range of HVAC systems that will be a good fit for your business facility. If you have always used one brand in the past, it is also a good idea to compare it to other brands and models, since efficiency ratings have greatly improved over the last decade, increasing the number of available systems that will provide years of comfort for your business. 
Our trained and certified technicians can handle it all and are available for any HVAC need that arises!  Our knowledgeable comfort consultants will assess your system and make expert recommendations that fit your business's specific needs in Chapel Hill.  And make sure to enroll in our annual Maintenance Club to keep your HVAC system running smoothly and help prevent breakdowns.
When you are ready for a commercial air conditioning and furnace replacement in Chapel Hill and surrounding areas, contact the experts at Boer Brothers Heating and Cooling. Call us today for your commercial HVAC consultation or fill out request service form to the left. If you have question or want to start a conversation with David, Bryan or Jeff, or our office, email us at boerbrothers@nc.rr.com. And finally if you'd like to meet us, stop by our Carrboro Office and come on in!